Today, Sinclair launched a new kids pattern, the Marleyberry. I tested it (and this post contains affiliate links but they are really my own picks) and I have to say, this is so far my favorite kids pattern. My kids and I liked it so much that I've made 4 already, and planned to make more.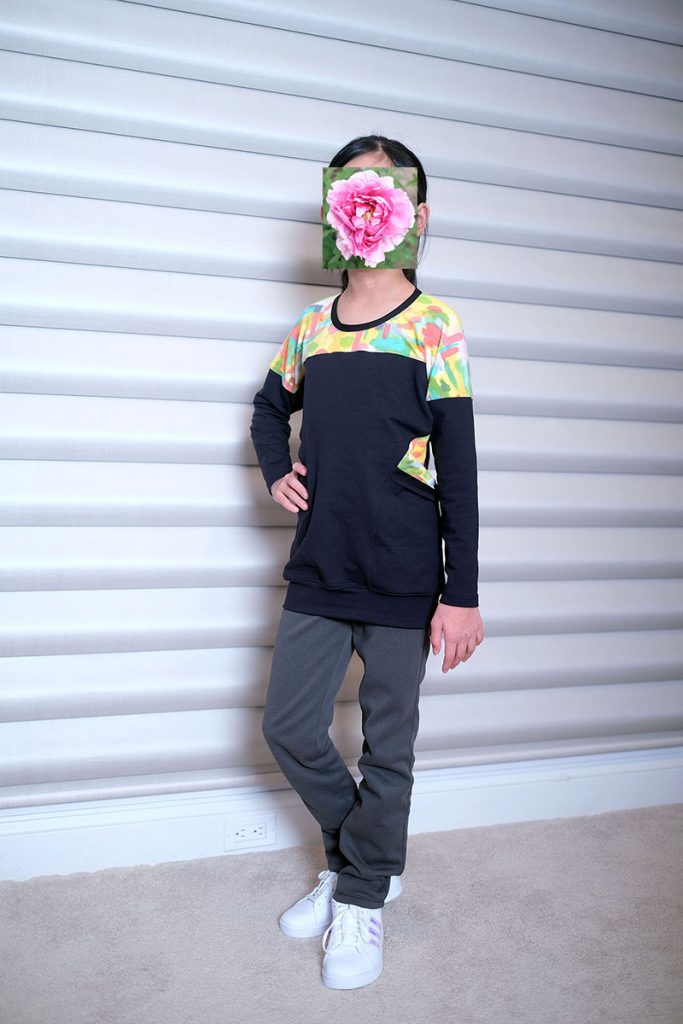 The design
Marleyberry is a dolman top with color blocking options, optional pockets, and sleeve options. This is the first time Sinclair draft with real projector files – mirrored pieces which completely eliminated the need to cut on fold, but with the central line you can still choose to cut on fold.

When I first got the pattern, I immediately printed the tech drawings in 6 rows to design my own look – there are just so many color blocking options. You can have any pieces to be in the main color or contrasting. The variation is unlimited. And of course, my kids chose their final look.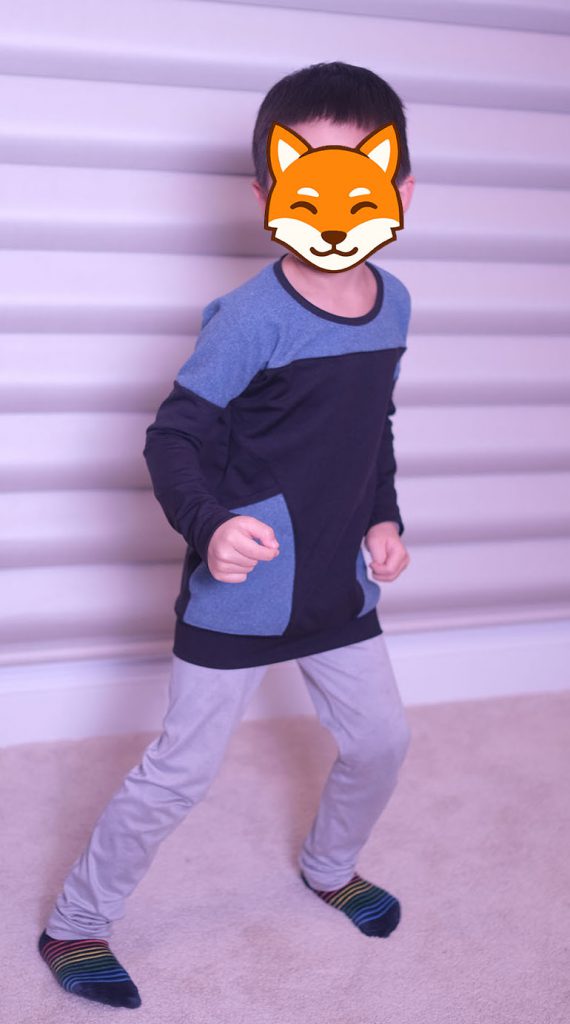 The pattern is well drawn. If you don't need pockets, it can be super simple since the front piece and back piece are the same. But the pockets are really fun. Depends on the length you choose, they are roomy enough to hide a little toy. My son loves them!
You have three length to choose from. The longest, tunic length, is really long. It's more like a mini dress. The longline one is what my kids picked. I didn't make a top one because initially there are no pockets for that option. Oxana since then changed the pattern to include pockets for the shortest length too.
You can make the top in long sleeves, with or without cuffs, or short sleeves with bands. The bottom band has 2 width. The two you've seen so far are the narrow band.
Sinclair kids patterns always come in regular and slim sizes. This is fantastic. My kids are slim but I don't need to grade. Normal RTW are boxy for them. Sinclair kids patterns are perfect.
The construction and fabric choices
The top is easy to assemble. Even the pockets parts are straightforward. Oxana included enough notches that you can hardly go wrong. Honestly I didn't even need to read the instructions (but I did as a good tester would do).
You can use any stretchy fabric to make this top. Mine are either in Polartec PowerStretchPro, or Thermal Pro. The black and yellow one used cotton Lycra as accent fabric. And the Seahawk panel is some fleece backed sweater looking fabric. If your yoke piece is too stretchy and with little recovery, like my yellow c/l, the sleeves may feel longer. This gray Polartec Thermal Pro fabric I used with the Seahawk panel has some small amount of two-way stretch. I used more stretchy fabric as the neckband and pocket trim, so it worked very well.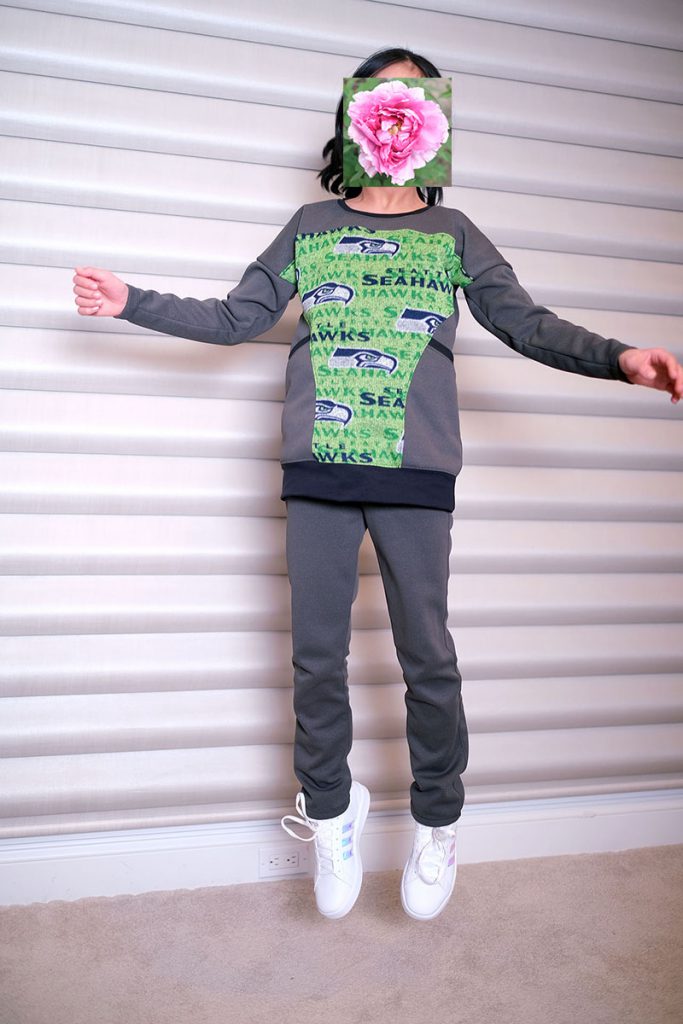 My favorite of favorites
In this pink cat version, I used Appliqué purchased from StyleArc. The fabric is Polartec PowerStretchPro. This is the first time I appliqued on knit fabric. I first applied a fusible web (Pellon heavy duty wonder under). And without removing the paper, I zigzaged the pink patches on using Bernina #20D open toe embroidery foot. They were initially glued on using the disappearing glue sticks. You can use the wonder under too, but I wanted to save the effort of cutting so many pieces. The glue sticks worked just fine. Just remember to buy those resolvable in water ones. You may use it to stick the entire appliqué too. But it's not as sturdy as using the fusible web. Plus the paper backing served as tear away interfacing too.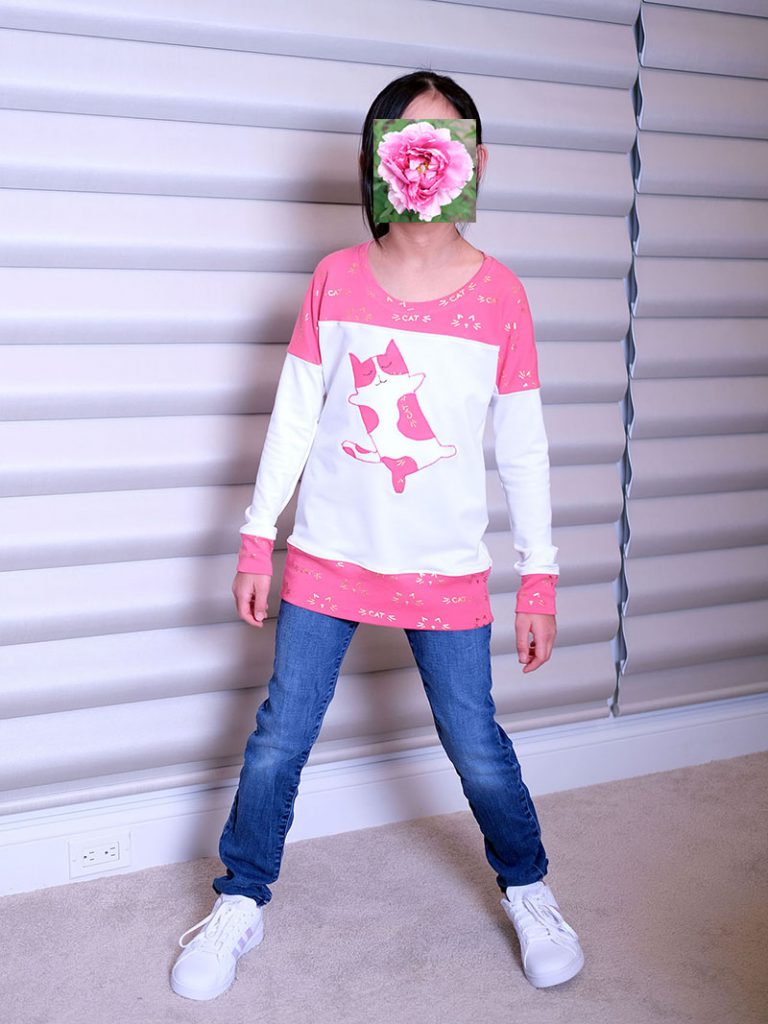 I know the pink part looks like some Japanese characters. But they are really just "cat" and cat faces. Did you notice the cuffs and the bottom bands are at the same level? That's so cool. If I used the narrow band, they will be the same width too. but here I used the wide band, and top length (shortest).
Summary
A solid 5/5. I can't stop making them. Highlights
A potential grow-with me pattern therefore it's really good for kids. The dolman style sleeves have no clear shoulder points so it's very forgiving. The cuffs helped with making too long sleeves still usable. Pick a slightly longer top length or simply go up 1-2 sizes to make it a grow-with-me top.
The design lines leave good color-blocking options. The big open area is good for panels or appliqués. The blocks are well balanced so the end result is really good.
The dolman yoke is a good way to use your fancy scrapes and makes it look good in Zoom. The yoke part is the most important part in Zoom meetings. The contrast is a lot of fun.
Slim and Regular sizes fit also slim and tall kids who are otherwise hard to find clothes that are fit.
Easy to cut and easy to construct. Front and back pieces are the same, sleeves are symmetrical. Yoke piece is also in one pattern piece. Less stitching too. The sewing has been really pleasant for me. It was so easy that I used it to relax.