I like hats because I always look better in a hat. A hat will make my face look smaller. But I haven't tried making hat myself until now. It sounds a completely different category that I'm not familiar with. And I hate wasting expensive material when making a muslin, which I always make on something new to me. I can find cheap fabric to make muslins, but to make a hat with a brim, you also need heavy weight interfacing. I don't have buckram in my stash. And I wondered if I can still make a good hat with craft interfacing (read as affordable) in my stash? I will find out with McCall 8212.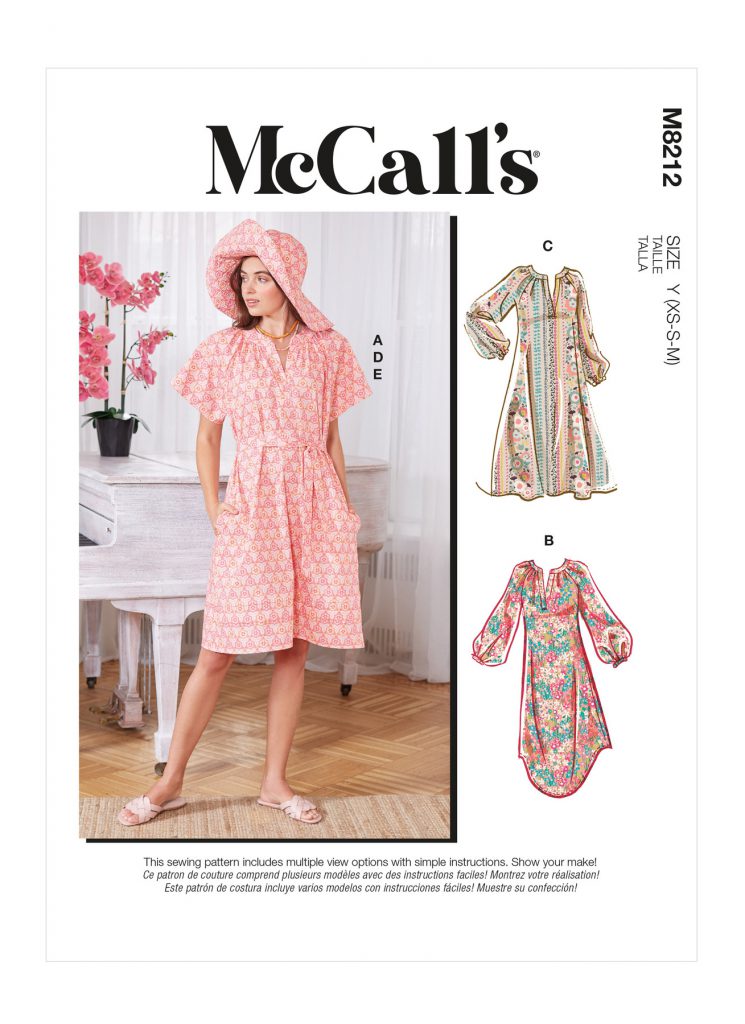 M8212 is a pattern published in 2021 Spring / Summer. It has 3 variations of dresses, a hat with a brim, a mask, and a belt. I bought it mainly for the hat and that's what I made this time. I may try to dress pattern too in future but I will use some soft fabric because I don't like the stiffness near the shoulder in the model picture.
The pattern is very simple, just two pieces. One for the brim, the other for the crown. The instruction asked you to cut two interfacing for the brim alone. It didn't really say to use buckram which is clearly mentioned in other hat patterns. And the model photo has the brim folded up as if it doesn't need much support. So I just took out the first thing available in my stash: Pellon 809 decor-bond. I also used some think one for the crown, Pellon P44F fusible interfacing. The unit price of this one is less than $1.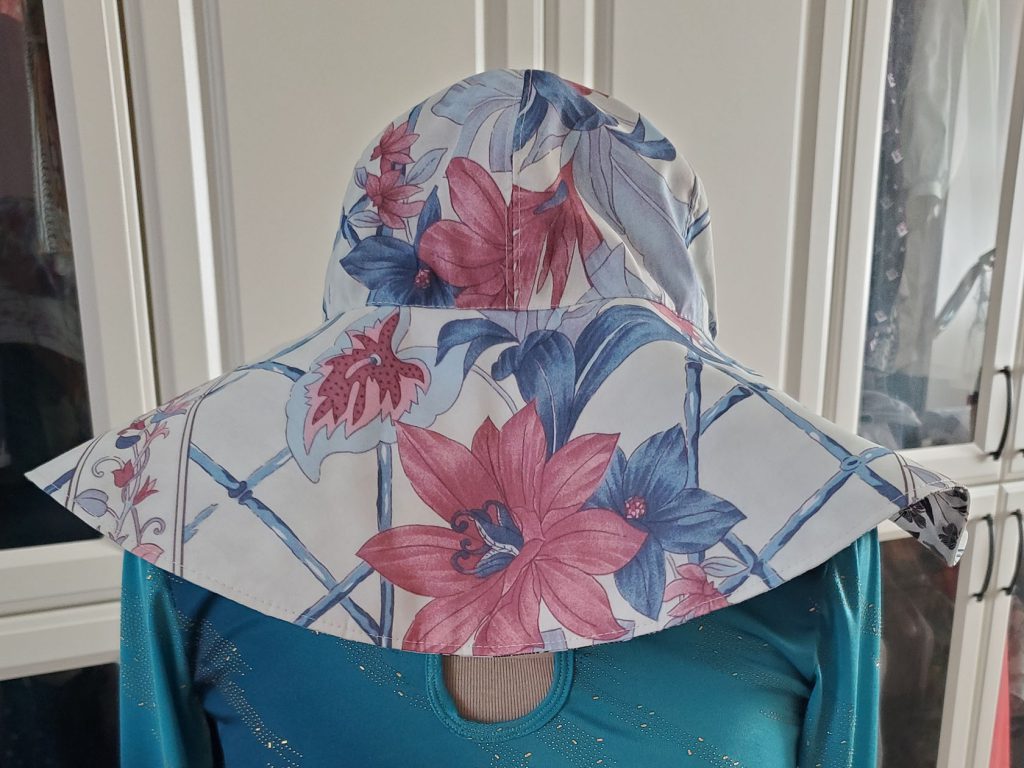 Fabric wise, I used outdoor fabric on as the main, and quilt cotton as the lining.
The instruction is really simple. I read it but I didn't follow. It just told you to stich the pieces together. If you are a beginner, the result won't be good. You will have raw edges, and the hat won't be clean if you forget to iron when the fabric is still flat. I connected the crown pieces, but also ironed and topstitched. You may skip the topstitch step since this hat won't be washed, but the ironing step is very important.
I also attached the main and lining separately so the hat will be reversible. I added topstitch around the brim edge too which was not mentioned by the instruction.
For the brim, I used decor-bond on one fabric, and P44F on the other because I had the wrong impression that decor-bond will be stiffer than buckram. And the end result? the brim can't hold itself well at all.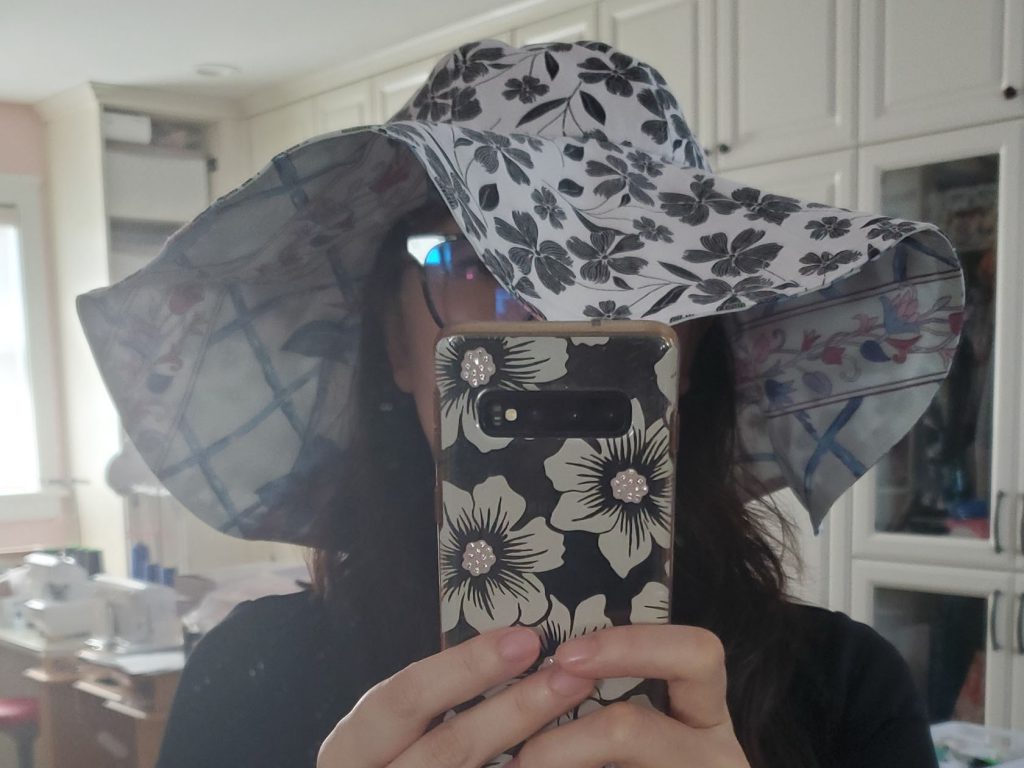 I needed it fold the front brim up just like the model picture to be able to see. the brim is too soft. I wondered if I should have used 2 layers of decor-bond instead, or maybe I should have sticked with buckram. But I'm not giving up. I know there's something else I can try to save it – wires.
I don't have boning in my stash, so I got some other craft material: green crafting floral stem.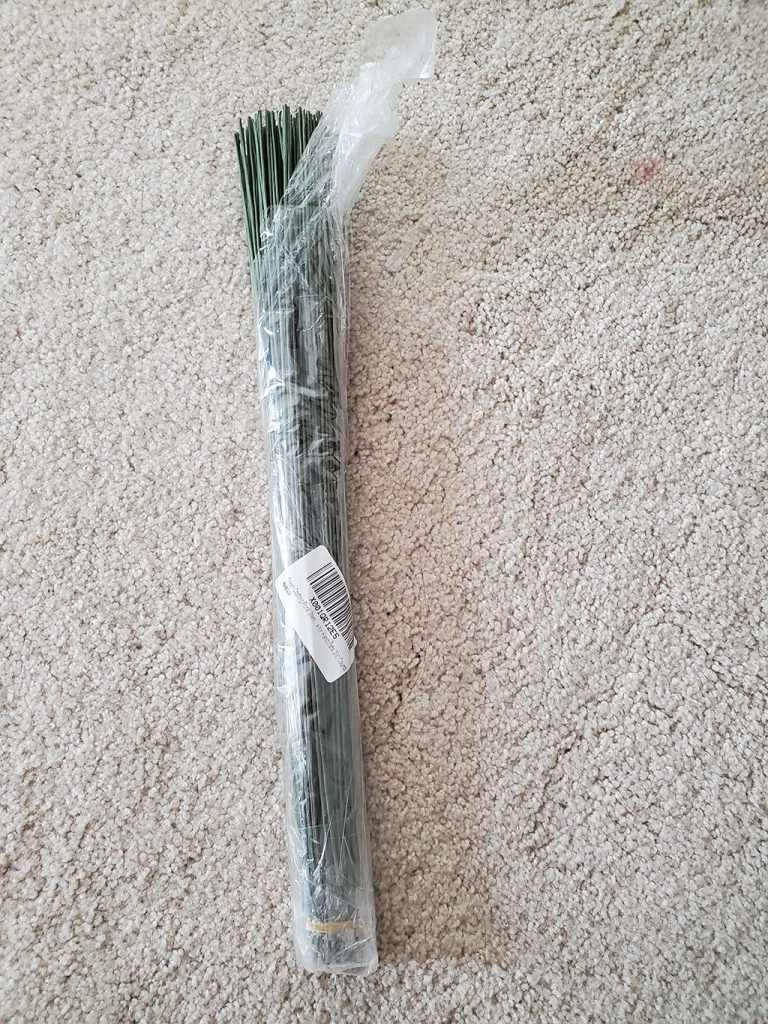 I reopened the hat by 2 inches, inserted a wire, and found the brim edge was too narrow to put the wire in easily. I took it out and stitched another round of topstitch, this time 3/8″ away from the previous seam. And I was able to insert the wire in easily. I stitched on both ends too to hold the short wire in place. It turned out my hat can fit 4 of the wires.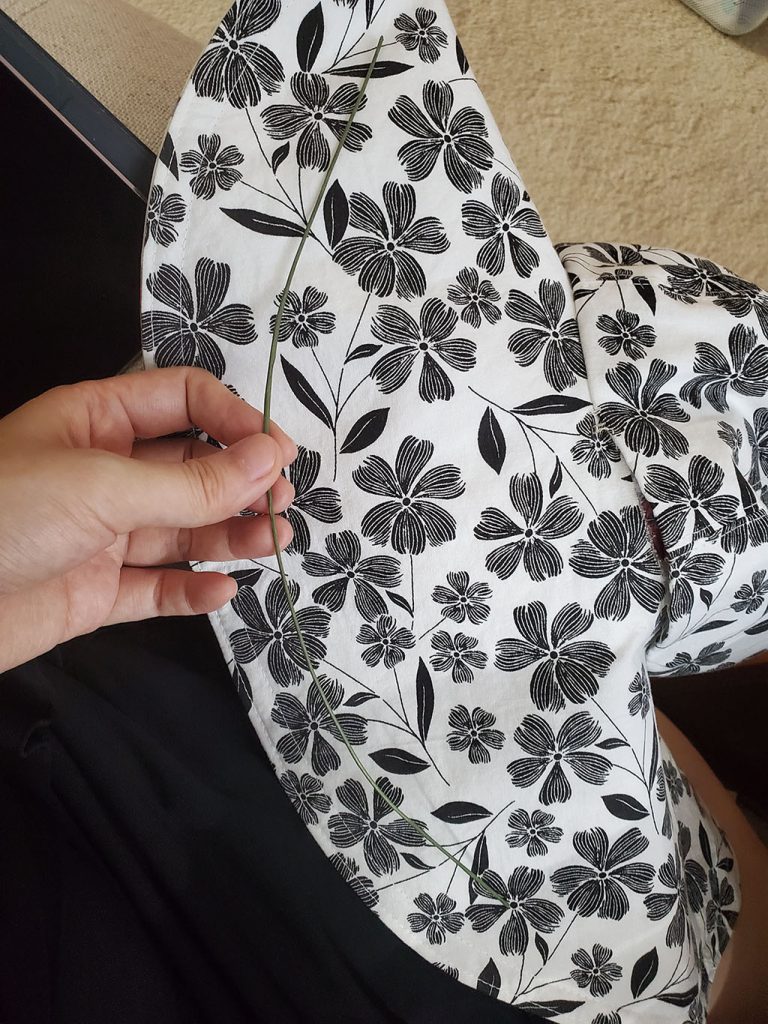 I inserted one to the front, two to the sides, and left the back untouched. I ensured that I can still fold the hat so it's portable.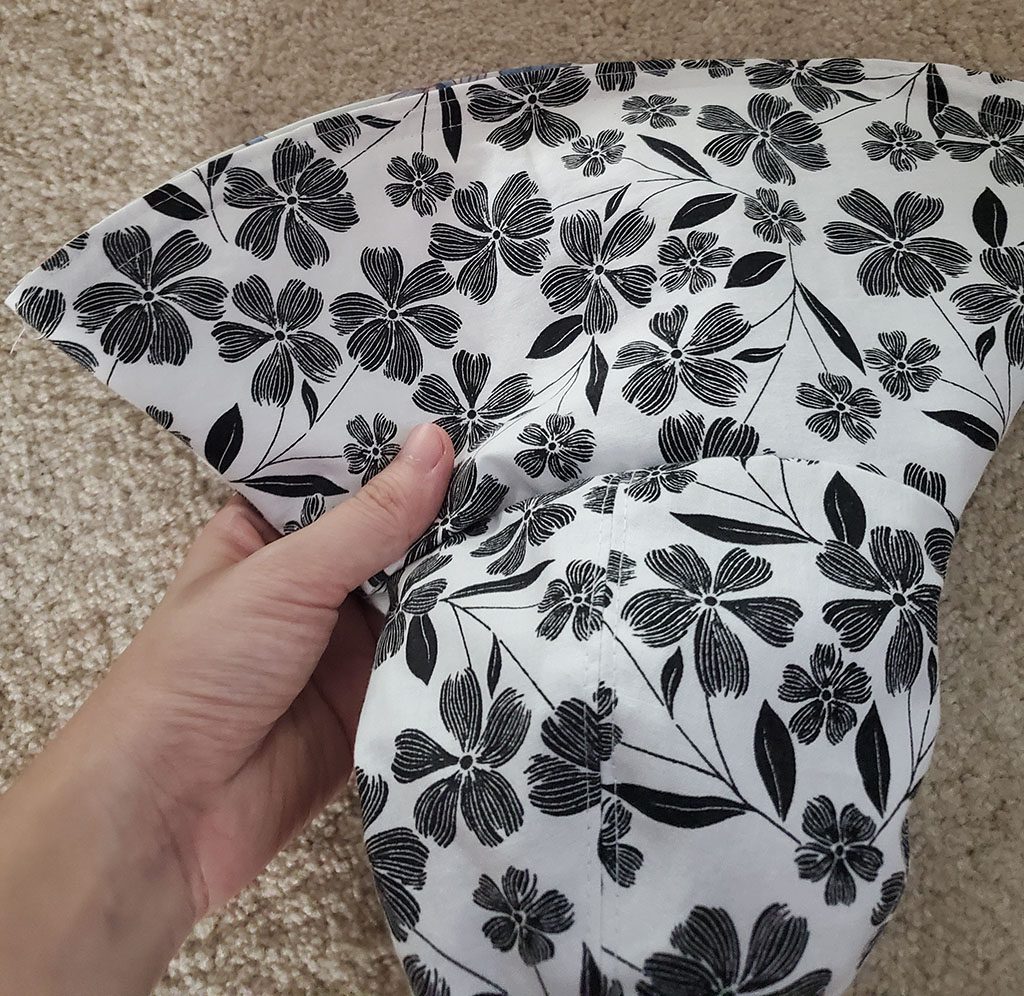 I like the end result much better.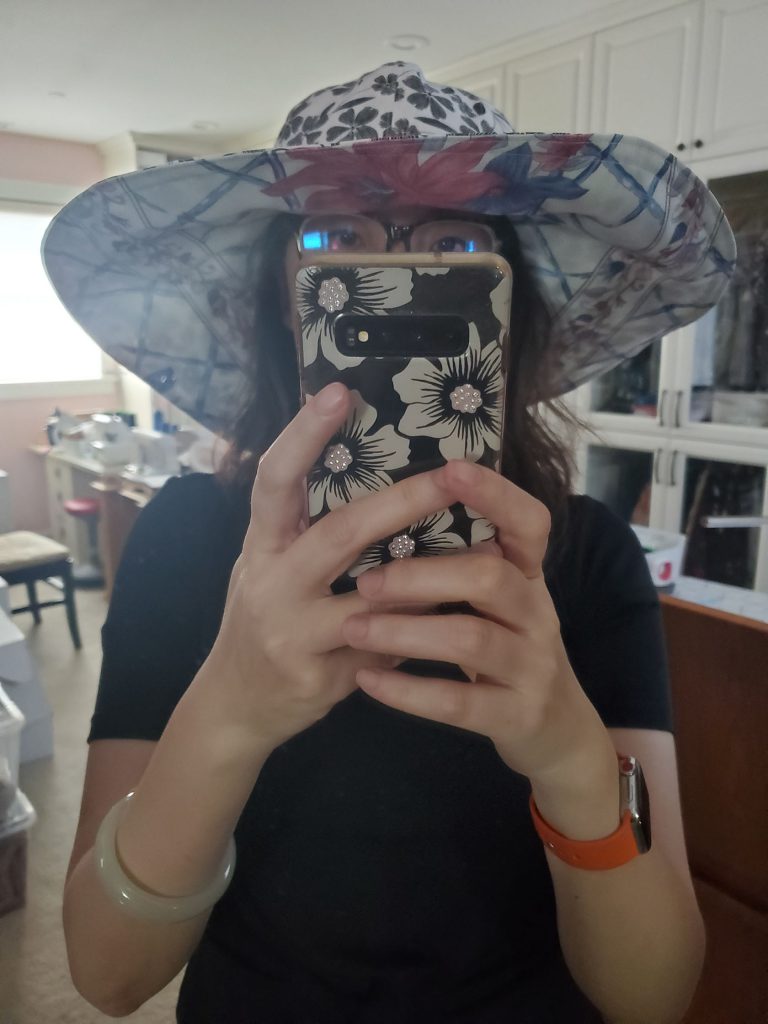 And I found that I like the lining as the out fabric better. I'm so glad that I made it reversible so I can choose.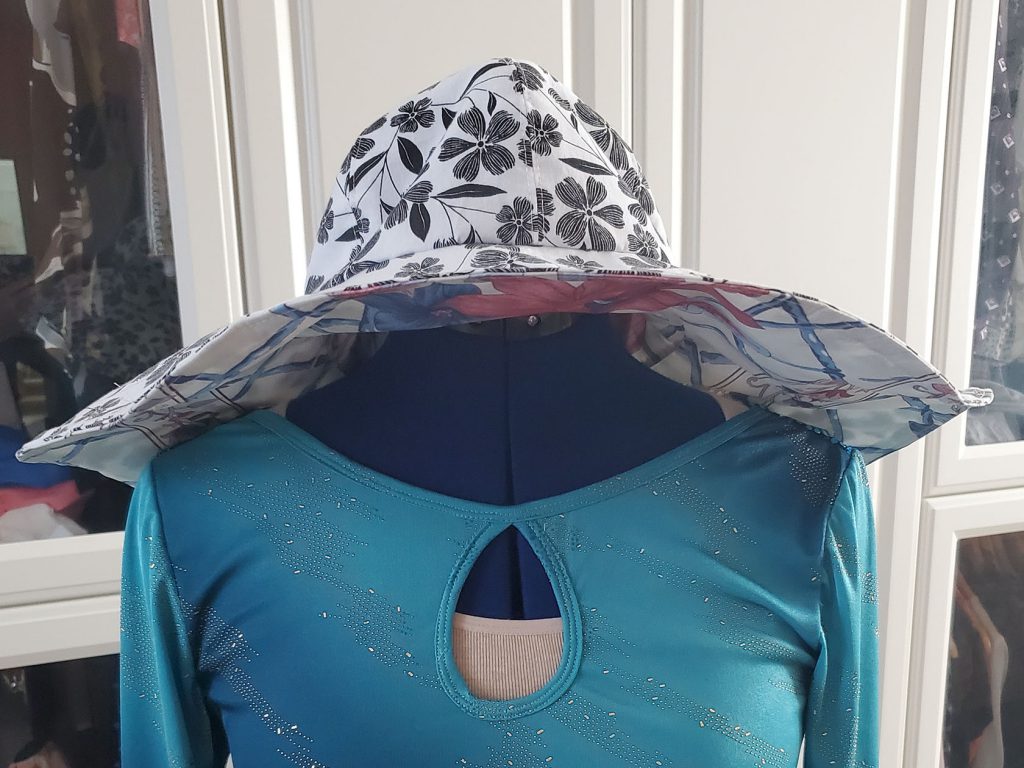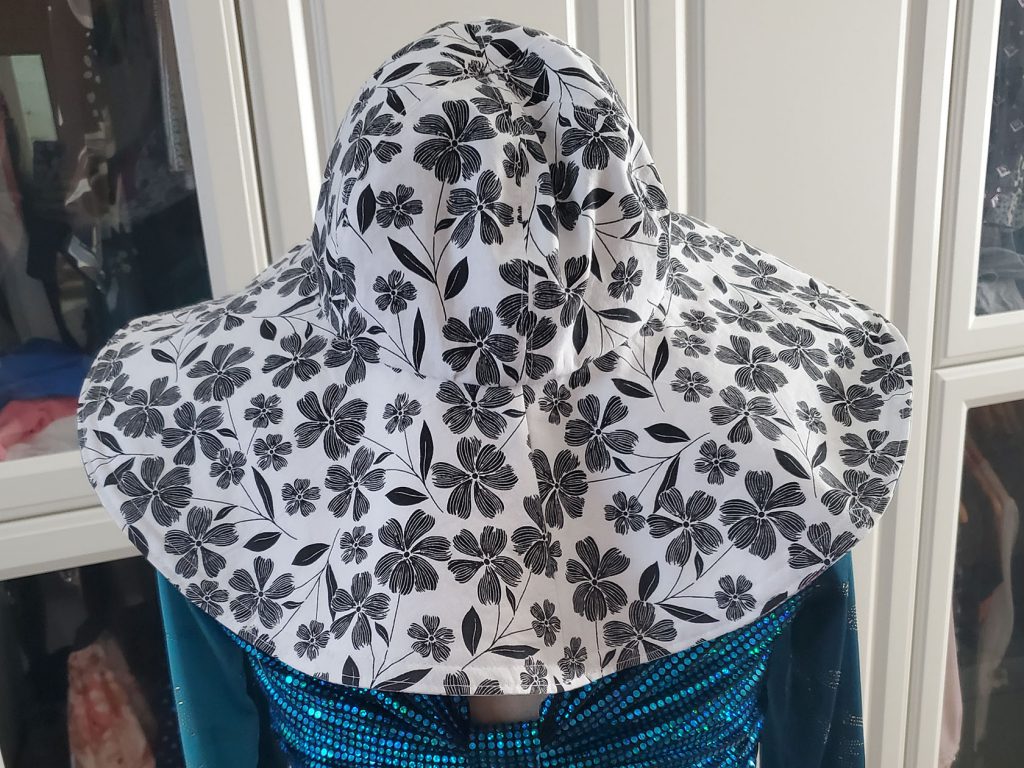 If I were to make it again, which I will, I will use heavy weight interfacing in the crown too. This one is too soft that it doesn't look good.
While I'm fine with the current effect, I will still use buckram in the final version, together with wires. The 3-piece floral crafting wire has it advantage of foldable. It's also super affordable.
It's a lot of fun to make this hat. It didn't take long. To make it reversible, you need to hand sew the last opening.