I hadn't watched any Cruella movie before the Disney one in 2021. So that formed all my impression about Cruella – a talented and brave fashion designer who had a dramatic life experience. No negatives associated with her at all. She's just so cool. So I rushed to Joann to get all Cruella patterns. I only needed to choose one for my Halloween – that proved to be the hardest part because that took the longest compared with cutting, sewing etc.
Simplicity has 4 adult Cruella costume patterns. S9339, S9340, S9341 and S9342. They are all good but S9339, the Prada suit is the most practical one. You can wear it in your normal life too. However I couldn't find the right fabric for the sleeves and skirts. If I had enough time I'd buy faux leather to weave myself. But time is always my most precious asset. S9342 is a jacket of Cruella's school time so not for my age. But S9341 the red dress is simply stunning. But reading the instructions, I found I need to insert boning for it. I hadn't time for a second try to I considered S9341 too risky for me. S9340, the one I choose in the end, is something I may be able to wear to street. But it has a fatal issue – it's not the same as in the movie!
In the movie, Cruella was wearing a reversible coat. When she was on the stage, it showed the white fur with black dots – Cruella wanted people to think it was made from the dog fur. The collar is black, and is of the size of a hood. When she ran off the stage, she wore the coat inside out, showing black and a stripe of the white fur only. She wore the hood which was black outside and the white fur with dots inside. The coat also had 3 buckles instead of 2. It's asymmetrical, and is much fuller. The most obvious difference has to be the half white fur on outside.
I have considered Mood's Cruella pattern too. It has the right fabric (half white fur with dots and half black), larger collar / hood, and is much fuller. But it also doesn't look right. It misses the asymmetrical trait. What helped me making up my mind to not use it, is the amount of fabric demanded by the Mood pattern. 22 yards in total. Keep in mind Mood's patterns are for free and all their incentive is to have you buy more of their fabrics. If you buy those material from Mood, the price would be $300 before tax. I'm sure the coat would worth more than that, but with my own fabric in stash, I felt it's a waste to spend the money on a coat I'd wear only once. Plus it's not that good either. The fabric you'd buy from Mood is pure white and you still need to apply the patches to make it looks like dog fur.
So I had decided to go with S9340, but make half of it in a print with black patches. I had some dancing apparel fabric that fits the need. But it's four-way stretch and is thin. So I underlined it with Polartec 100 fleece lining, and the other side I used Polartec PowerStretchPro. Knowing the pattern called for woven fabrics, I sized down.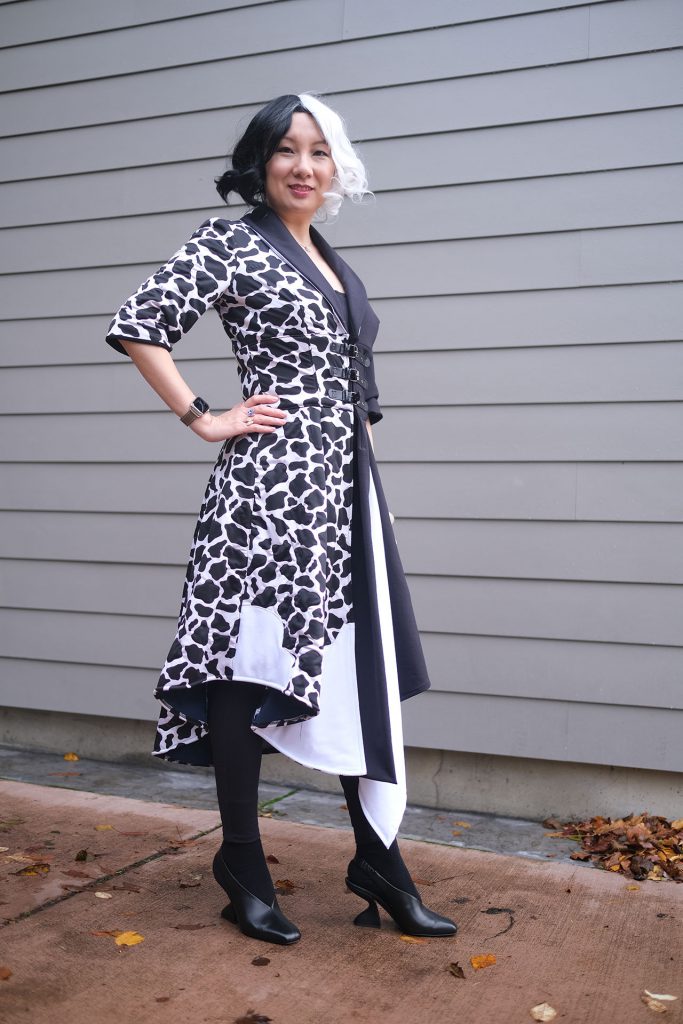 Pattern highlight
Since the coat is a costume, there's no much to say beyond how similar it is to the original (which it isn't). But to my surprise, the jumpsuit comes with it is superb! I'm not a jumpsuit person because of its inconvenience. So I compared it with other leggings and form fit tops. The legging part has a more complicated curve compared with other leggings I've made. It actually contours around your calf. Even though I used some really stretchy fabric (Polartec PowerStretchPro), I can still see the difference – there's no excessive fabric around my ankle yet the entire jumpsuit didn't feel too tight. In comparison, the Sinclair Vienna jeggings has lines around the ankle – you can see it in testers' photos. And I've made it too in the same fabric, with same lines. Jalie legging patterns don't have the lines if you made it in your size, but the cost is the heavy negative ease. They feel tight. The Simplicity Jumpsuit applied more fine tuning, plus the help from the pulling of the upper part, that the jumpsuit feel so comfortable and yet looks great!
The coat is half lined and the instruction is good. I learned some new techniques here. I highly recommend. The instruction is great!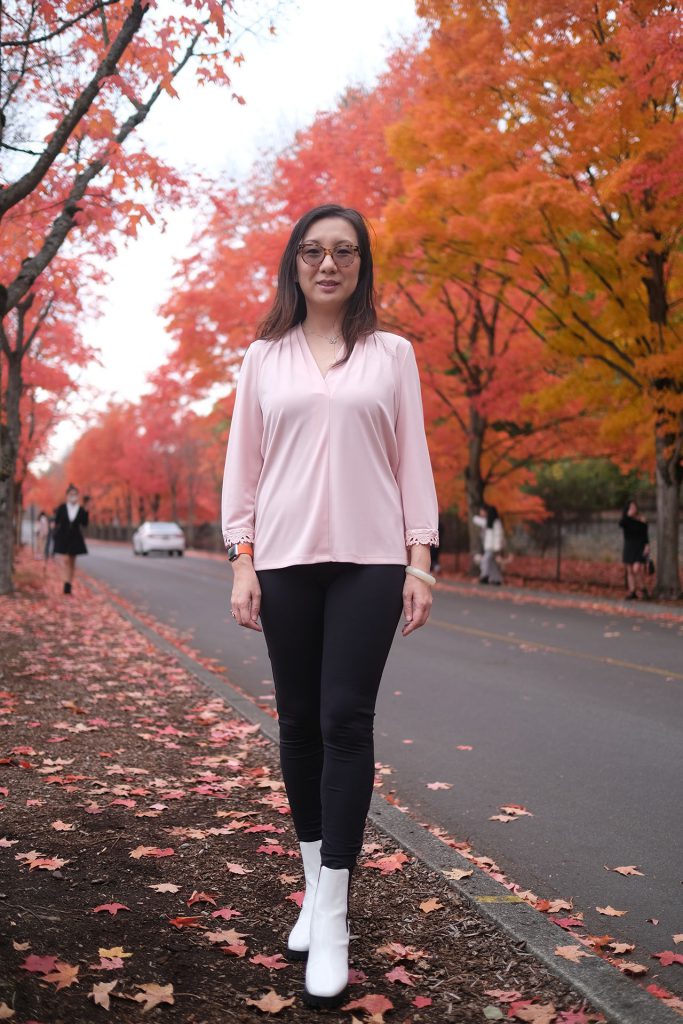 The above photo showed me wearing the jumpsuit with combat boots, which are hot this season.
Pattern modifications
I used different fabric in half of the coat. It took me a lot of time to cut because for each piece I need to cut twice now. I skipped the buckle tabs. I purchased the right type instead. I got them from Amazon. They are smaller than the original ones but did the work well.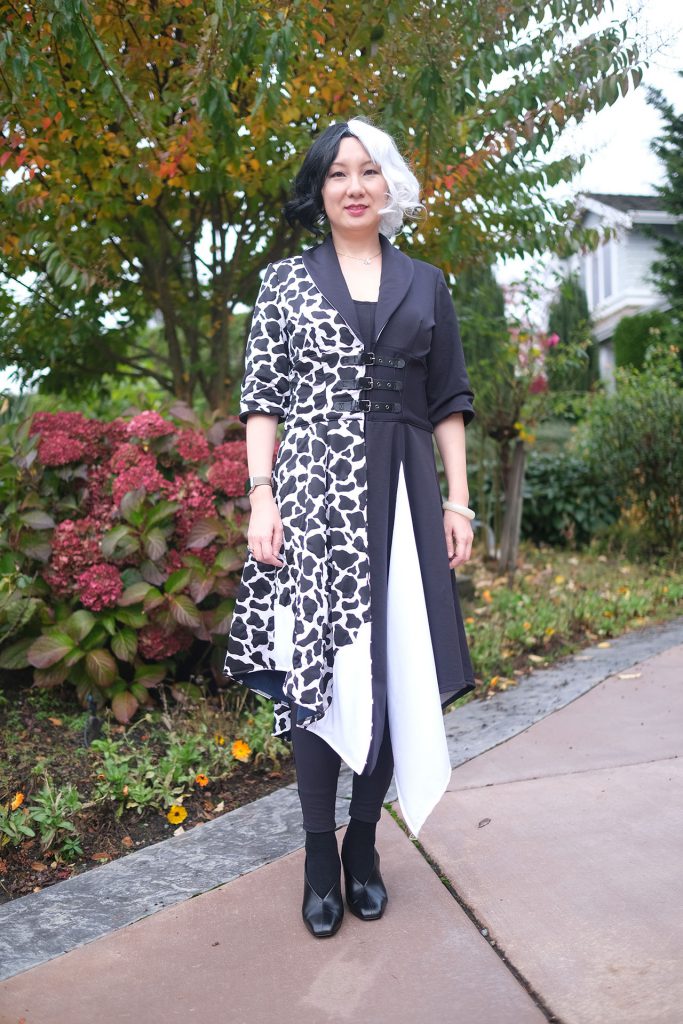 I used stretch fabric and run down a size, including the jumpsuit. The midriff /waistline of the coat is slightly lower than idea because of the heavy weight of my fabric. but I think it's fine. The two front pieces just touched each other and the jumpsuit inside would show – that's why the costume definitely needs the jumpsuit, not any black tops.
Since I used some really stretch fabric, I skipped the back zipper. There's no problems at all because the neckline is pretty low. If I had enough time, I'd make some black fabric necklace too just like in the movie. I also didn't use binding because my Polartec power stretch pro is quite thick. I simply turned and topstitched with a cover stitch machine. It turned out good.
Summary
The shape of the skirt, the irregular white patches, and the overall fits are all good. You can make the collar piece larger or form a hood so it resembles the movie more. Overall I'm really satisfied with my costume. Since I used heavy knits, it looks fuller than the model. I'm glad I didn't use the Mood pattern or it would be too heavy. I'm also glad I didn't make the stunning red dress as my costume – it's late October so it's cold outside, this coat gives me enough warm to walk on the street with my kids.
Oh, and here is where I got my wig, for only $22. link.
Finally, I would rate the pattern 5/5. It's totally wearable, and looks good. I probably won't wear my version outside of Halloween occasions, but it's only because I took some shortcuts and didn't finish all insides cleanly (like non-matching color threads used on a serger).