I received ads about some new socks pattern releases, and then realized I had one in stash that I haven't made yet. So I made the patter to learn more, and to see if I need to buy another socks pattern. Prior to that, I've made Jalie 2448, and I've also own Jalie 3027 but haven't made one yet.
Socks Petja, Kids Pattern
The one from my stash is the Socks Petja pattern from Kids Pattern. I bought the pattern from makerist.de when it was on sale for €2. The one I linked is the same pattern from the English makerist.com site. I thought since it's on both sites, it must include the English instruction too even thought I bought from DE. I'm wrong. The DE one only has German instructions. But luckily Google translate can directly translate the PDF and it's very easy to understand.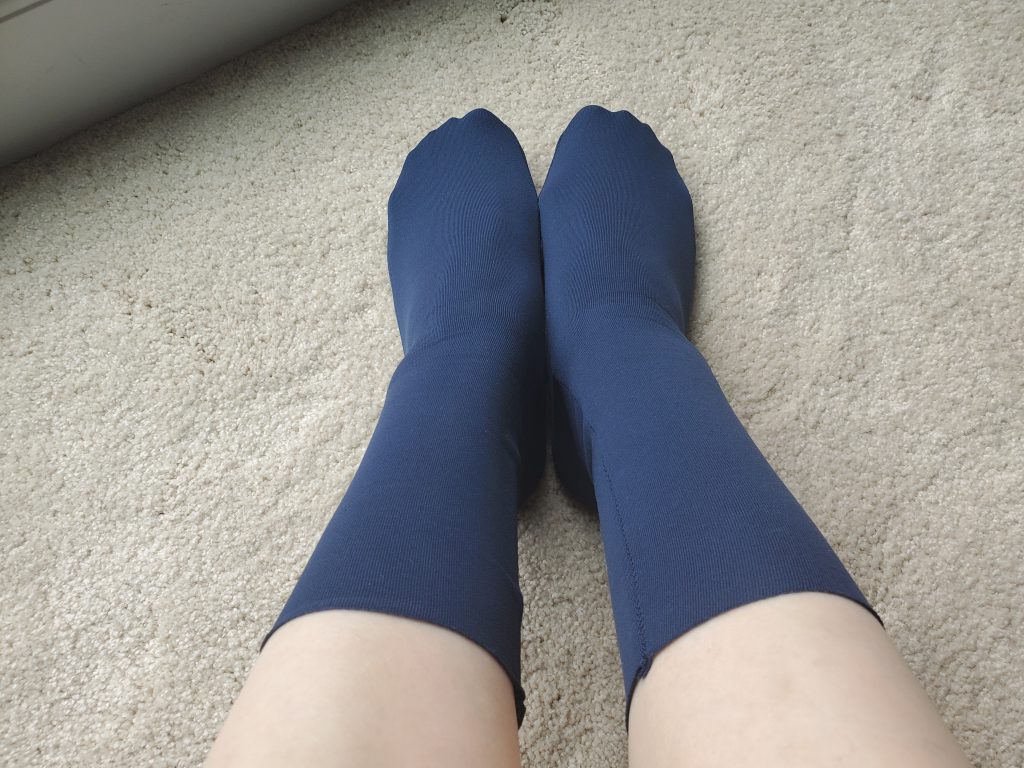 The PDF pattern is layered and you can print on A4 or letter. There are in total 3 pages, so I didn't even bother with my projector. You are supposed to use your shoe size to choose the socks size and that's all in EU sizes. For those in the US, find your shoe's EU size. I tried to copy some charts online here to help you, but I realize they are not accurate. I directly shopped in EU, UK and US all the time in different stages of my life (read it as, before the pandemic), so I know I'm US 8, EU 38 (Italian 38, French 39), and UK 5. I picked size 37/38 to make Petja, and later realized I forgot to add the seam allowance!
Yes the pattern asked for 7mm seam allowance, which is about 1/4″. But I still made them with my Polartec® PowerStretch. The result is good! I'm so eager to show you the result that I haven't added a band yet. The pattern taught you how to cut a band but it's not in the pattern.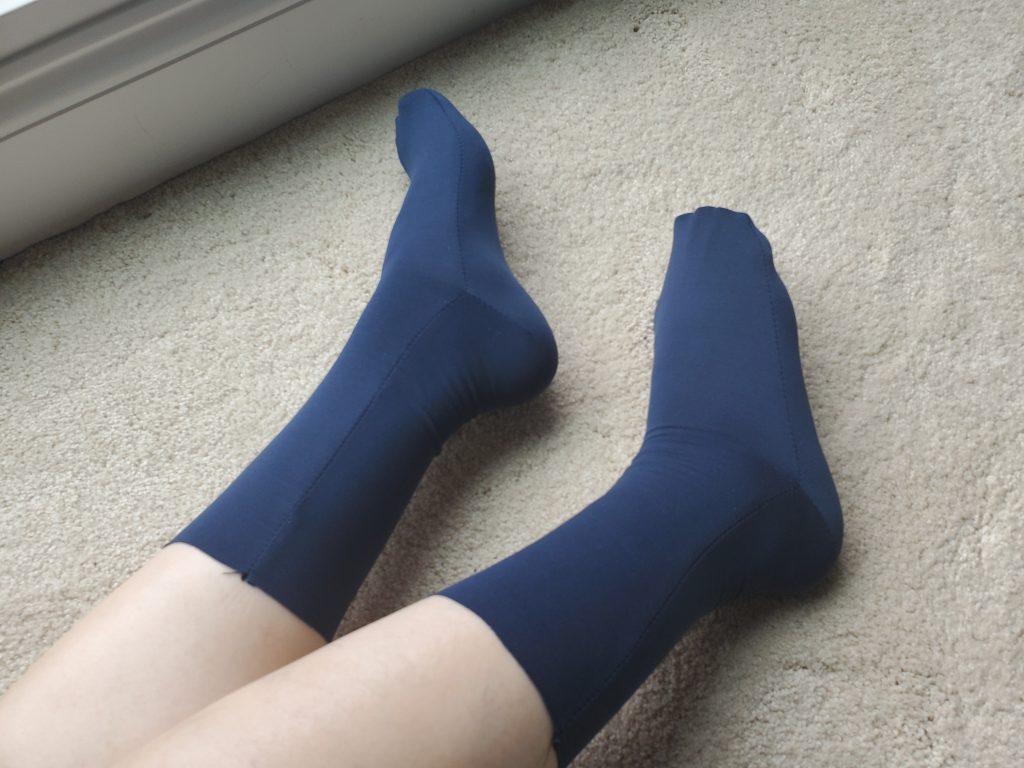 There's not a single notch in the pattern but it's super easy to match and sew. I used 1/4″ seam allowance and my sewing machine, and they are comfortable, just like wearing a pair of RTW thick nylon spandex socks. It has seams on both sides. Despite I didn't add the seam allowance when cut, I could stretch to make them fit perfectly. I think that's due to the half seam only at the heel. Even if my feet are larger or smaller, it won't be noticeable.
The pattern includes kids and adult sizes. It's for the whole family. I highly recommend it especially if you can score it on sale at €2. The retail price is really affordable too, at $4.7 including VAT. It includes sizes 11/12 to 49/50. I used 37/38 and I'm a US 8.
Others patterns comparison
I haven't made all the other patterns yet so some of the analysis is based on the pattern design, not on the final fit. And none of them sponsored me to write this so it's purely my own opinion.
Jalie 2448 vs. Petja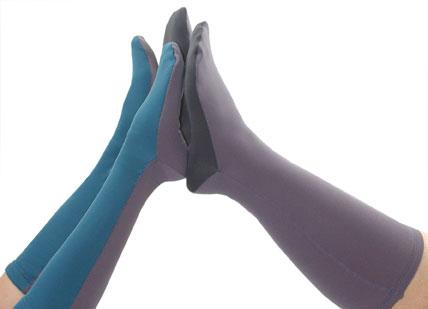 Jalie 2448 is a thermal socks pattern for fleece. When I made them in my usual size using some lightweight knit fabric, they felt loose. But you do need your real size for the accurate length, otherwise it won't fit and it can easily show – the sole seam is ovbious.
Jalie 2448 contains 3 pieces and they fit similarly to Petja. Petja combined the back pieces into 1 and used darts for the heels. That's how Petja avoided the sole seam on the heel. The advantages of Petja are:
More flexible fit due to no seam to indicate any fit problems. This is important because with different fabric, the heel seam may end up at an unexpected location. On Petja it won't matter, but on Jalie it will be obvious.
No heel seam means more comfortable. I can't bear a seam under / behind my heel. None of my RTW socks have a heel seam like Jalie 2448.
Petja is for normal knits while Jalie 2448 is for fleece.
Thanks to the 2 pieces only pattern, you only need to assemble 3 Letter pages. Jalie used 7 pages.
The advantages of Jalie 2448:
3 pieces pattern means more color blocking options. The color combination on the right of the photo can't be achieved by Petja.
It comes with a projector file.
Personally I prefer Petja more.
Tights patterns vs. Petja
Jalie 3027 has tights pattern. It's once piece with a back seam. Back seams sometimes can be sexy, but it's a pain. I own some RTW tights like that from Wolford. The back seams don't stay straight all the time, because the socks with the seam under your feet may twist. My feet are sensitive to any under-the-foot seams so I won't use such patterns in daily wear.
Once piece patterns vs. Petja
Jalie 3027 has one piece already. But there is a recent TWT one piece socks pattern that has a side seam only, the Just Sew It socks. One piece patterns have no fundamental difference from the Petja approach. They just attached the necessary pieces together so it's easy to cut and sew. But the drawback is, it will require a larger piece of fabric. That means you can't use some of your fabric scrapes. Another drawback is, fitting adjustment will be hard or impossible – but who need to adjust fit for socks? You need to use very stretchy fabric already.
It would be interesting to see TWT's one piece socks pattern which has a side seam as opposed to the traditional back seams. And it has no darts. I guess the pattern just relies on the stretch fabric's elastic to accommodate the heels. As you can see, their other socks patterns only required 25% stretch, but the Just Sew It socks required 50%. And you can see many of the model pictures posed the socks when their feet were in some unnatural ballet position, when the front of the socks is fully extended. That's how you can easily show socks without ceases. In all their normal position photos, there are clear ceases.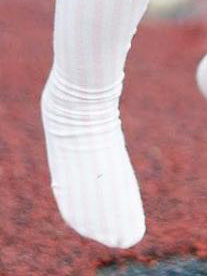 I'm probably too picky here about the ceases. To me it's an indicator of low quality legwear and would only shown with tights fabric with poor stretch and recovery. That's a sign never shown on any of my Wolford or Fogal tights or socks, unless you wear a much larger size. It seems there's too much fabric in the front piece. To solve it, you need to allocate less fabric for the same amount of back fabric. So you want to stretch it more. But if the stretchiness is already used to accommodate the heel, probably there's not much you can do here.
I attached two of my own photos to show the lack of ceases on Petja. But I have to mention that after some wear they will slide down since I haven't finished the band yet. Once they lost the tightness, ceases also showed. I really should finish the band with some silicon elastic.
Should you make your own socks?
If you enjoy doing it, of course! Or if you have the need to make some matching socks or tights.
But for any other reasons, I believe you can find better alternatives by buying RTW ones.
The best socks are knitted to form fit your feet. There aren't any side seams so it's super comfortable. You can't achieve that by sewing. That's why Jalie targeted their socks pattern for fleece – they are more like slippers than socks.
And economically it doesn't make sense either. True homemade socks can be cheaper. But socks at that quality aren't expensive anyway. The money saved can be negligible here. If you buy special fabric for them, because most likely your jersey won't be suitable for making socks, you'd end up spending more.
I don't regret buying Petja or the jalie patterns though. At least I tried and knew how it's like. For the same reason I own some shoes pattern. I may buy more in future if I see a drawing I couldn't decipher. But I know I won't make socks often.